Dedication to conservation: Iowa Agriculture Water Alliance
Taking care of the land is an important part of everything we do at Hagie Manufacturing. The commitment to our environment needs to go beyond engineering machinery that accurately nourishes and protects crops or designing lightweight machinery to minimize soil disturbance.
When it comes to clean water, there's more work to be done. Becoming a member of the Iowa Agriculture Water Alliance (IAWA) is a step to collaborate with 14 businesses and organizations to improve Iowa's water quality.
"Becoming a member of the Iowa Agriculture Water Alliance was an easy choice for us to make," said Kent Klemme, president of Hagie Manufacturing. "We're dedicated to giving back to the community, and we're constant advocates for the creation of smarter agriculture practices. The conservation of clean water is something we care about deeply, and we see it as the right investment to make for generations to come."
CONSERVATION POWERED BY COLLABORATION.
The IAWA is composed of farmers, conservation experts, scientists and businesses all collaborating to perfect and scale up practices known to reduce nutrients in water. Hagie Manufacturing is one of 14 businesses nominated by Iowa Secretary of Agriculture Mike Naig for recognition of the work being done to improve Iowa's water quality.
"Collaboration among public and private partners is key to implementing scientifically-proven solutions that improve water quality locally and downstream," said Secretary Naig. "IAWA is taking a leadership role in increasing private funding, which accelerates the implementation of conservation practices that support the Iowa Nutrient Reduction Strategy."
These efforts recently earned a partnership award from the National Association of State Departments of Agriculture. The NASDA Public-Private Partnership award recognizes private organizations that partner with a state Department of Agriculture to implement a program, project or service that positively impacts its residents.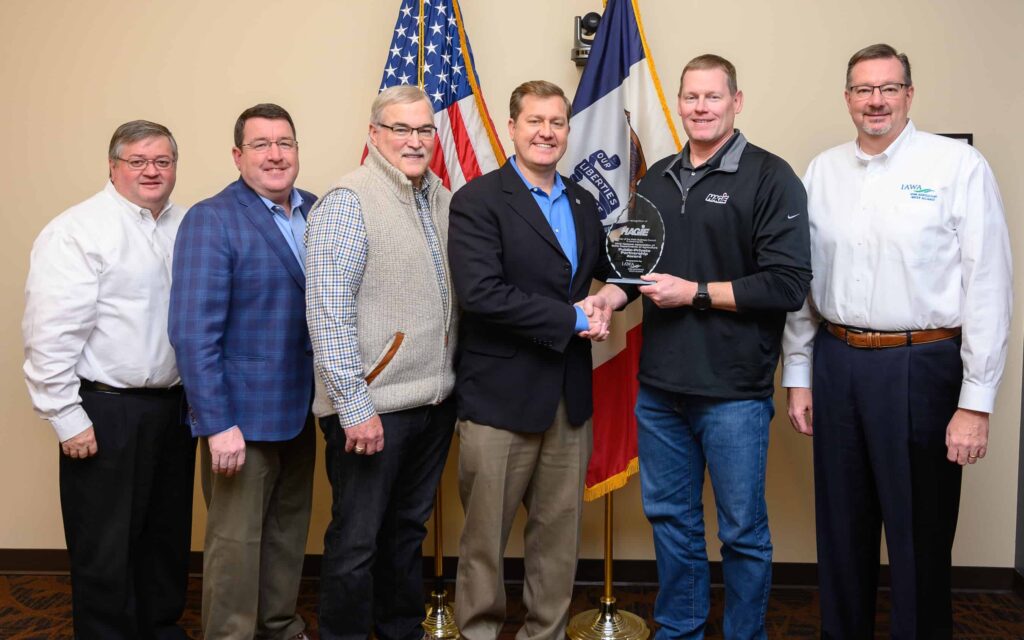 PROBLEM-SOLVING AT THE CORE.
For the Hagie team, action is driven out of the interest in increasing efficiency. Improvement and innovation are cornerstones of the culture, as well as a Midwest work ethic and a do-the-right-thing spirit.
"For us, it is simple. When our team sees a problem, we want to solve it," said Klemme. "Working alongside some of the best in the industry to innovate solutions to improve water quality is something we're proud to be a part of."
The solutions to improving water quality includes a variety of tactics – some that producers can do every year with extended crop rotations, nutrient management and water draining management, while other tactics include longer-term practices. Three major areas have been created to make progress towards the Iowa Nutrient Reduction strategy goals: cover crops, conservation drainage and strategy.
These practices are being co-led by the Iowa Department of Agriculture and Land Stewardship as well as the IAWA. All in all, the $11 million contract has aligned 48 partners – including 19 agribusinesses –  and $39 million in non-federal match to improve water quality.
"The IAWA Business Council has been instrumental to the success of our public-private partnerships," said IAWA Executive Director Sean McMahon. "Our Business Council members are investing substantial resources to make a real and meaningful impact on Iowa's water quality."
Not only is community work and awareness a critical piece of the water improvement puzzle, but so is the machinery used. Along with increased accuracy from an engineering standpoint, action is being taken to nourish crops in the safest way possible in the conservation of water resources.
"Fertilizer rate, timing and placement must all be properly managed to maximize the nutrients that are taken up by the crop," said Klemme. "It's all about minimizing the loss of nutrients to surface water and groundwater and getting the crops exactly what they need for the producer to have strong yields."
To do this effectively, Klemme continues to see collaboration as the answer. "By working together and continuing partnerships like the IAWA, we can make a real positive impact," he said. "We look forward to continuing our conservation commitment."
To learn more about the Iowa Agriculture Water Alliance, click here or see other ways Hagie gives back.