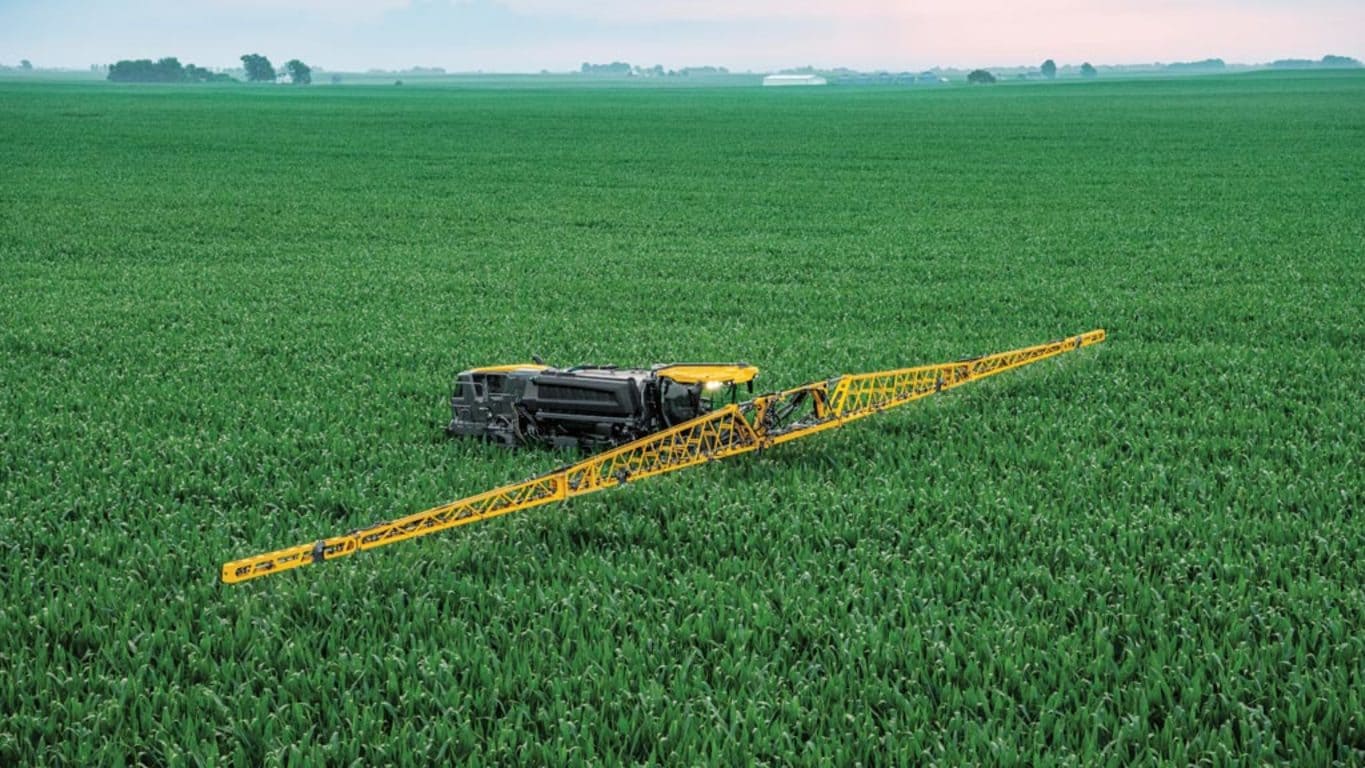 STS16
Self-Propelled Sprayer
1,600-gallon (6,057 L) tank
Up to 132-foot (40.23 m) boom
400 hp, 9.0 L engine
35 mph (56.3 km/h) transport speed
Features
No matter the field or crop conditions, it is important to be able to feed and protect your crops throughout the entire growing season. The all-season capability and performance of the STS Sprayers enable you to enter the field any day.
Gliding over crop with 1.88 m (74 in.) of underframe clearance combined with a narrow in-row crop package and smooth transition shields minimizes impact and crop disturbance.
Standard AWS ensures the rear tires follow the front tires, leaving only two tracks while turning.
Not only does the STS excel in late-season, tall-crop applications, but its balanced weight distribution with the tank full, empty, or anywhere in between and optional floatation tires enable it to perform in challenging field conditions all year long.
Hagie is a trademark of Hagie Manufacturing Company and similar to John Deere branded equipment, John Deere will also support Hagie equipment.
Covering acres is important and doing so with accuracy and precision is essential. The PowrSpray solution control system found on the Hagie™ STS Sprayers makes sure every acre is covered precisely. The predictive pump control ensures target rates are accomplished faster, even in challenging dynamic conditions. Add the optional dedicated pull-on pump for fast and accurate solution tank loading and/or ExactApply™ for nozzle-by-nozzle control.
Predictive pump control anticipates changes in flow to maintain target rate
Electronic solution tank level indication
Fast and accurate loading with the optional dedicated pull-on pump
Optional eductor
Optional ExactApply nozzle control
The solution keypad found on the cab entry ladder provides control of critical solution functions from the ground, eliminating the need to climb back into the cab during tending.
For operators that prefer the front fill location, there is an option to relocate the PowrSpray solution control system keypad to the front fill location for ease of utilizing the features offered on the keypad.
Dealer Use Only:
Code

Description

8925

Fill Control Keypad Relocation – Front

Only one keypad location can be used at a time. The unused keypad will be unplugged and not operational.

V437024
Hagie is a trademark of Hagie Manufacturing Company and similar to John Deere branded equipment, John Deere will also support Hagie equipment.
Cover acres with confidence and control. The Hagie hybrid front boom lineup offers a lightweight yet durable design by combining both steel and aluminum. Strong steel composes the interior sections of these booms, providing strength and flexibility where you need it. The outer sections are made of aluminum, reducing overall weight and improving control. Special consideration for hose and plumbing routing improves operator visibility and overall boom cleanliness. Spray tips and nozzle bodies are protected from impact as they are positioned within the booms structure.
Improved visibility and lighter overall weight than all-aluminum booms on previous-generation models
Available in a range of widths and nozzle spacings
Large range of application heights from 58.4 to 279.4 cm (23 to 110 in.)
Three-direction, spring-applied outer breakaway
Hydraulic main boom breakaway
18-m (60-ft) outer wing folded width on 27-, 30-, and 36-m (90-, 100-, and 120-ft) booms
21-m (70-ft) outer wing folded with on 40-m (132-ft)
Locking connection between the inner and outer sections of the boom ensures rigidity
Hagie is a trademark of Hagie Manufacturing Company and similar to John Deere branded equipment, John Deere will also support Hagie equipment.
Boom Update
The hydraulic cylinders have been updated along with surrounding structure to improve the folding and unfolding of the booms. The improved performance is especially beneficial when a drop system is installed.
The electronically controlled CommandDrive drive system provides an infinite range of field speeds and operator adjustability. The single hydrostatic drive pump provides flow to four variable displacement wheel motors. The system works automatically to continuously adjust they system to match target speed.
Real time traction control – CommandDrive monitors for wheel slip and diverts oil flow to send power to the other wheels. This system monitors for slip front to rear, side to side, and crossways for maximum control and minimal slippage. Two predefined traction control settings are available (normal and severe) in addition to a custom setting that allows for manual control of both slip and de-stroke percentages.
Operator programmable speed ranges – Select the number of speed ranges from 1 to 20 and the first and last range top speed. This allows the drive system to be tuned for operator preference and field conditions.
Scroll wheel speed range selection – By scrolling the wheel on the back of the control handle, operators select the desired speed range. In addition to the scrolling feature, the scroll wheel can be pushed to rapidly change between spray and turn speed. Spray and turn speed can be set by the operator within the corner post display.
The StarFire 7000 Receiver is the latest addition to the suite of Precision Ag Technology from John Deere. The StarFire 7000 Receiver offers greater accuracy, faster pull-in times, and season-to-season repeatability. This means less hardware, faster times recovering from a shading event, and the confidence that your guidance lines and boundaries do not shift from year to year. The integrated design further enhances the value that you have come to expect from StarFire products.

Similar to the StarFire 6000 Integrated Receiver, the StarFire 7000 eliminates all setup, installation, and calibrations. There is no need to verify machine and receiver measurements, as this has been done precisely for you at the factory. You will spend 60 minutes less per receiver move each season, which gives you more time to focus on other parts of your operation.

With updated Ethernet connectivity, software updates are easier and faster. StarFire 7000 Integrated Receiver maintains the speed to update software in under 4 minutes while remaining in the cab. Over-the-air updates are 85 percent faster with the StarFire 7000 Integrated Receiver because of Ethernet connectivity.
Benefits to the StarFire 7000 with SF-RTK
5-year repeatability
10-minute pull-in time
2.5-cm (1-in.) pass-to-pass accuracy
Drop-in replacement for StarFire 6000 Integrated Receivers
To learn more about the StarFire 7000, visit the StarFire 7000 page.
The Ultimate Comfort and Convenience package offers unsurpassed visibility, operator comfort, control placement, and ride and sound quality.
Increased comfort from leather seat with massage, heating and cooling, electronic controls and better swivel
Easily make adjustments on the go
Improved visibility on the left and right with better sight lines to the crop
Vision leather seat
Improved swivel seat – 16 degrees to the left and 16 degrees to the right
Heated and ventilated cooling
Massaging functions to reduce fatigue during long days in the field
Electronic controls that make it easier to adjust the seat to the preferred location
Pneumatic lumbar
Cushion length adjust
ActiveSeat II
When spraying and transport conditions are not ideal, it is important that comfort is not sacrificed. With the Hagie's Ultimate cab package, a seat suspension package is offered to improve spraying comfort even further. This seat provides the highest level of comfort during bumpy conditions and ensures operators will finish their long harvest days without aches and pains.
Redesigned using an electric motor for quicker response and a simplified design, the ActiveSeat II seat suspension option significantly reduces vertical motion of the operator up to 90 percent compared to the machine, ensuring a smoother ride than any seat suspension options offered by Hagie in the past.
Apple CarPlay® radio
The 16.5-cm (6.5-in.) state-of-the-art digital touchscreen radio works with Apple CarPlay and provides a multitude of entertainment options. CarPlay is a smarter, safer way to use an iPhone® mobile device when driving.
Connect phone via Bluetooth® wireless or USB to play music
Check the weather
Navigation
Phone calls
Voice control
Door cinch with remote door opening
Door cinch reduces the force needed to close the door
Electric motor makes it easier to open and close the door without slamming
Remote door opening and door lock-unlock fob
Minimize residue exposure from outside surfaces by using the door fob to remotely open the door
4600 CommandCenter™ Display
Improved visibility with 80 degrees of swivel to the right
Refrigerator
Keep beverages and other items cool
Plenty of storage
Three cup holders
Easily accessible storage compartments located to the right and behind the seat
Bluetooth is a trademark of Bluetooth SIG, Inc. Apply CarPlay and iPhone are trademarks of Apple Inc.
Specifications
Solution system - Capacity
6056 L
1600 gal.
Rinse tank capacity
605 L
160 gal.
Boom length options/Material
Hybrid steel and aluminum: 18/27, 18/30, 18/36, or 21/40 m
60/90, 60/100, 60/120, or 70/132 ft
Spray speed range
0.8 to 40 km/h
0.5 to 25 mph
Transport speed, maximum
56 km/h
35 mph
Suspension
Independent air-ride
Crop clearance with standard tires
188 cm
74 in.
Total weight (empty solution tank)
12,205 kg
32,700 lb
Rated engine power
298 kW
400 hp
Emissions
Final Tier 4 (FT4)
Number of cylinders
Six
Displacement
9 L
548 cu in.
Alternator
300 amp
Fuel tank capacity
492 L
130 gal.
Diesel exhaust fluid (DEF) tank capacity
29 L
7.7 gal.
Capacity
6056 L
1600 gal.
Tank material
Stainless steel
Rinse tank capacity
378.5 L
160 gal.
Quick fill size
7.6 cm
3 in.
Automatic section control
Optional
Solution system control
PowrSpray™ system
Fill location
Standard: Side
Optional: Front
Chemical injection method
Optional: Raven Sidekick
Chemical eductor
Optional
Chemical eductor capacity (size)
19 L
5 gal.
Flow meter size
5.8 cm
2 in.
Pressure strainer
50 mesh
Boom strainer
Standard 80 mesh
Boom length options
Hybrid steel and aluminum: 18/27, 18/30, 18/36, or 21/40 m
60/90, 60/100, 60/120, or 70/132 ft
Automatic boom height
NORAC® UC7™ with Active Wing Roll (AWR)
Plumbing material
Stainless steel
Ground height adjustment
58 to 272 cm 23 to 107 in.
Breakaway width
For 27-m (90-ft) booms: 1.5 m 5 ft
For 18/30 or 18/36 (60/100 or 60/120 ft): 3 m 10 ft
For 40-m (132-ft) booms: 3.3 m 11 ft
Boom sections
For 27-m (90-ft) booms: 1.5 m 5 ft
On 30-, 36-, and 40-m (100-, 120-, and 132-ft) booms: 9 sections
Type
CommandDrive™
Drive
Full-time four-wheel drive (4WD)
Shifting
Infinitely variable - Operator programmable
Hydraulic reservoir capacity
113.5 L
30 gal.
Spray speed range
0.8 to 40 km/h
0.5 to 25 mph
Transport speed, maximum
56 km/h
35 mph
Dry compatible
No
Suspension
Independent air-ride
Crop clearance with standard tires
188 cm
74 in.
Front tires
VF320/105R54, VF380/90R54, VF380/105R50, VF420/95R50, VF480/80R50
Rear tires
VF320/105R54, VF380/90R54, VF380/105R50, VF420/95R50, VF480/80R50
Flotation tires
VF480/80R50, VF 620/70R46, IF710/65R46
Hydraulic tread adjust
Standard
Wheel tread spacing
305 to 406 cm
120 to 160 in.
Wheel base
457 cm
180 in.
Turning radius
With all-wheel steer (AWS) on: 5.8 m 18.9 ft
With AWS off (center of outside tire): 8.9 m 29.2 ft
Parking brake
Integrated in final drives
Primary brakes
Drive system dynamic braking
Ladder raise/lower
Hydraulic
Total weight with 90-ft boom
14,696.4 kg
32,400 lb
Total weight with 100-ft boom
14,651 kg
32,300 lb
| | |
| --- | --- |
| Air compressor | Onboard air |