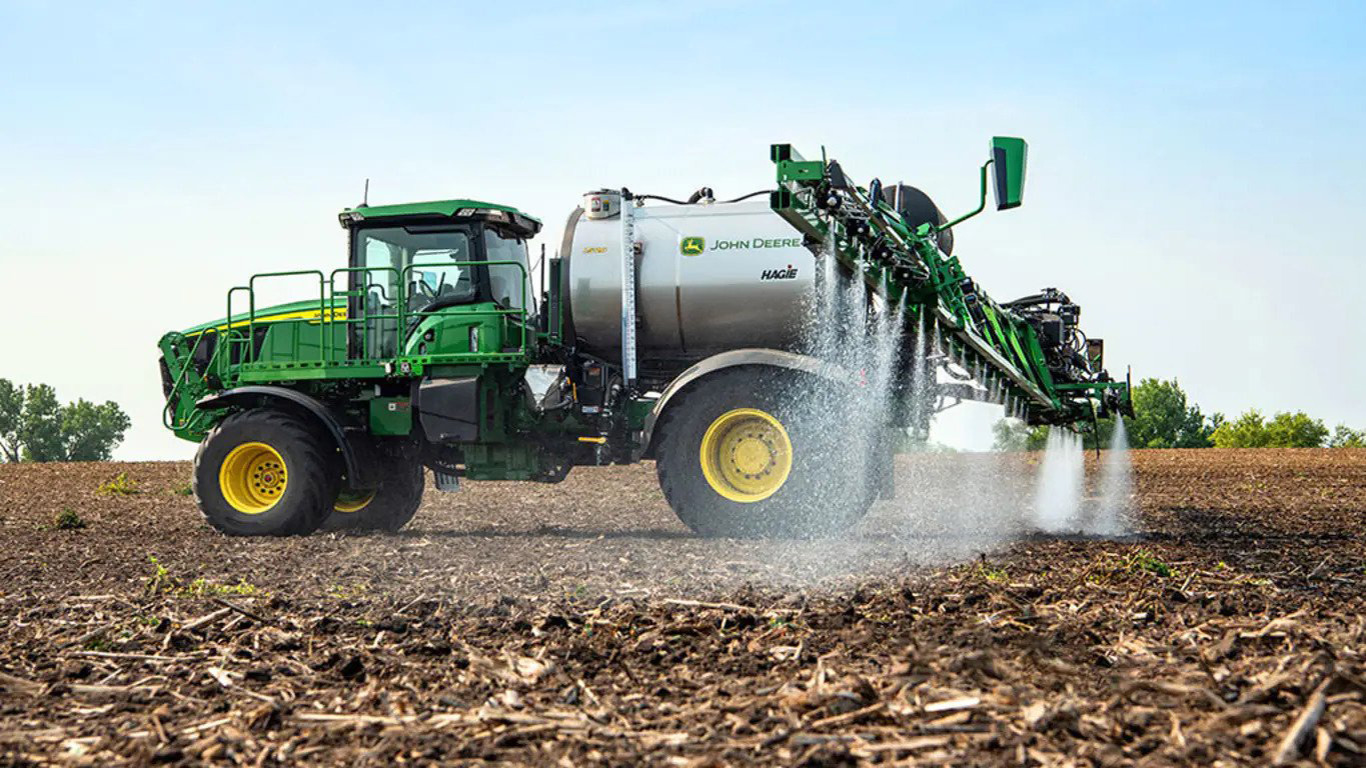 LS20 Liquid System
for 800R Floater
Cover more acres between fills with 2,000-gallon (7570L) solution tank
Faster fills at up to 300-gallons (1136L)/minute
Wide flow-rate range from 5-420 gallons (18.9L- 1589L)/minute
Apply at 80 gallons (302.8L)/ acre at up to 25 mph (40.2 km/h)
Versatility to apply pre-plant, high-volume N or low-rate pesticide
Requires the 800R Floater chassis
Features
During the busy spring season, you need to complete jobs as crops are planted, from applying high-rate fertilizer on unplanted corn fields to low-rate pre-emergent herbicide on soybeans. Dual centrifugal solution pumps with dedicated magnetic flow meters work together to achieve pin-point rate accuracy through the entire flow range between 18.9 and 1589.9 L/min (5 and 420 gpm).
Dual pumps enable you to apply:
High rates at higher speeds without sacrificing tank agitation. For example, this system can apply 378.5 L (100 gal.) per acre at speeds over 32.2 km/h (20 mph). Applying at faster speeds means more acres covered per hour, and duals pumps give operators the ability to apply more product per acre.

NOTE: Application rates can be impacted by solution density, nozzle size, and tip pressure.


A wide range of rates with the same machine, increasing machine capability and improving asset utilization. For example, apply 32 percent fertilizer at a rate of 302.8 L (80 gal.) per acre, then move to the next field and spray glyphosate with 37.85 L (10 gal.) of carrier per acre – all by simply capping the cam-lock tips and rotating high-flow nozzle bodies.
Solution pumps are common components with self-propelled sprayers and use flange-face fittings instead of pipe threading for easy maintenance.
Magnetic flow meters:
Have no wear parts, reducing downtime
Are accurate through a wider range than turbine flow meters
Are compatible with suspended fertilizer solutions
When you need to get acres covered, getting tender trucks back to the plant increases productivity. To hold more product onboard, the LS20 solution system features a stainless steel 7570.8-L (2000-gal.) solution tank and black poly 757.1-L (200-gal.) rinse tank.
The large solution tank allows operators to cover more acres between refills. This tank gets tender trucks empty faster and back on the road, translating into less idle time for the tender truck and you and quicker load turnarounds.
The industry's largest rinse tank provides more onboard fresh water for:
Triple rinsing the solution tank with the automated rinse cycle
Flushing the boom plumbing
Container and eductor bowl rinsing
Optional on-board hydraulically powered pressure washer
The light-blocking black poly material discourages algae growth in the rinse tank.
You want the least amount of machine traffic in your fields, and the wide LS20 boom allows ag service providers to cover more acres per pass, reducing the number of total passes.

The time-proven 27.4-m (90-ft) 4 Series Sprayer steel boom unlocks reliable productivity for ag service providers. This durable boom features:
Full-boom breakaway
Tridirectional boom tip breakaway
Auto-fold
The standard dual plumbing system features 76.2-cm (30-in.) off-center high-flow nozzle bodies (turrets) and a 152.4-cm (60-in.) on- center cam-lock. When configured for 152.4-cm (60-in.) cam-lock spacing, the effective spray pattern is 29 m (95 ft). Hagie™ provides an option that offers the same 152.4-cm (60-in.) on-center cap-lock spacing, but with an additional option of 38.1-cm (15-in.) on-center high- flow nozzle bodies (turrets). The 76.2-cm (30-in.) nozzle body configuration achieves a 27.4-m (90-ft) spray pattern. The Hagie LS20 can also be configured with 38.1-cm (15-in.) on-center, high-flow nozzle bodies (turrets) or 152.4-cm (60-in.) on-center, high-flow cam-lock plumbing.
With 152.4-cm (60-in.) high-flow cam-lock plumbing, you cover 12 percent more acres per pass compared to the largest competitor boom width at 25.9 m (85 ft). Make fewer passes through the field and reduce compaction, as well as time spent spraying, with this boom.

You can easily switch from low-pressure/high-rate fertilizer application to high-pressure/low-rate for pre-emergent herbicide, burn-down, or pasture application. This dual plumbing eliminates the need for you to route additional plumbing lines and connections.

Seven-section boom control:
Reduces overlaps
Minimizes wasted product
Improves quality of application
Utilize John Deere Section Control software for an automated application experience.

Auto-fold allows the boom to automatically unfold and fold faster, getting operators in and out of the field quicker, and the low-profile, flat-fold design delivers superior transport visibility.
Hagie is a trademark of Hagie Manufacturing Company and similar to John Deere branded equipment, John Deere will also support Hagie equipment.
The LS20 offers two side fill options: a push-on side fill option and a pull-on side fill option that includes the transfer pump. Producers can also order optional front fill through aftermarket.
When the tank is empty, every second counts trying to get back into the field. The PowrSpray™ system features independent fill and spray circuits with dedicated pumps to maximize flow. The dedicated self-priming transfer pump can fill the solution tank at over 1135.6 L/min (300 gpm). This PowrSpray system can:
Automatically fill to a predefined tank level while automatically adjusting engine speed
Pull fresh water from the rinse tank to clean the fill system
Be manually reduced if a slower fill rate is desired
Pause filling, giving you sufficient time to add ingredients and rinse containers
Allow for quick and easy operation at the load station for all skill levels
The 12-button keypad enables complete automation, reducing the need for you to turn multiple ball valves. The features include:
Fill station light on/off (button 1)
Rinse water source for transfer pump (button 2)
Menu/numeric input (button 3)
Agitation (button 4)
Pressure washer (button 5)
Automated rinse cycle (button 6)
Eductor/container rinsing with solution pump (button 7)
Eductor/container rinsing with transfer pump (button 8)
Eductor on/off (button 9)
Push-on target fill (button 10)
Push-on manual fill (button 11)
Pull-on target fill (button 12)
Pump speed increase/decrease (via manual hydraulic valve)
When you buy John Deere equipment, you expect reliability. You also know that problems can happen, and a product is only as good as the support behind it. That's why John Deere equipment is prepared with technology that senses potential issues and can alert you and your dealer promptly—in the cab or anywhere you are.

John Deere Connected Support is a revolutionary change to support that leverages technology and the connectivity of JDLink™ telematics to prevent downtime and resolve problems faster. These tools decrease downtime by an average of 20 percent, enabling faster responses to unexpected problems and reducing technician trips to your machine. For some issues, unplanned downtime can even be prevented altogether through prediction of the issue.

With your permission, John Deere Connected Support:
Keeps you running by monitoring machine health and promptly alerting you and your dealer of issues
Saves time by remotely viewing in-cab displays, reducing trips to the machine
Reduces or even eliminates technician trips to a machine through remote diagnostic and remote software reprogramming capabilities
Connects experts with the information needed to respond to downtime faster and prevent it altogether
With more than a decade of experience leveraging connectivity to solve problems, no one else has the experience, tools, and knowledge to keep you running as John Deere and your John Deere dealer can. Connected Support is an in-base feature on all John Deere products with factory- or field-installed JDLink.