Innovation. Water quality. Covered.
Inventive cover crop technique improves Kansas water quality.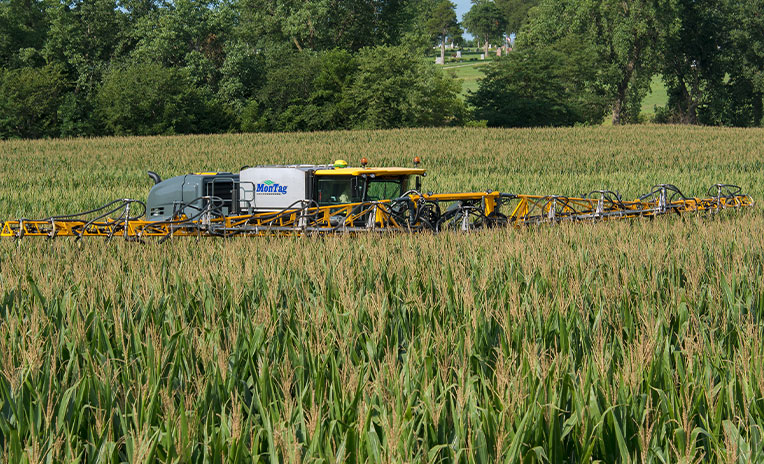 Northeast Kansas is a region rooted in Midwest culture, where you'll experience a little slice of picturesque Americana. To most, it looks like many other classic Midwest areas in the country. Rolling hills, small-town economies, hardworking people. Take a drive through the rural roads, and you'll likely see producers at work in the fields.
While the work in the fields may look like it's all standard practice, what you're really seeing is innovation, strategy and science at work. You might even spot an interseeding machine created from partnership and ingenuity of Hagie Manufacturing, Montag and the State of Kansas. And it's all for the sake of improving water quality.
"Producers in the agriculture industry have the opportunity to be part of the solution when it comes to improving water quality in rural areas, and that's what we set out to do," said Andy Lyon, Bureau of Environmental Field Services with the Kansas Department of Health and Environment.
Lyon and his team began working to forge partnerships between manufacturers, co-ops and producers with a strategy to enhance cover crop interseeding. The thought being that cover crops, if widely adopted, can protect water quality by improving soil health, conserving water resources and reducing the nutrient loss from fertilizer on crops.
"The idea is to have cleaner water before it even enters the water treatment plant," said Lyon. "Cover crops do a wonderful job in scavenging available nutrients, and then holding those nutrients within that plant biomass. As the cover crop begins to decompose, it releases those nutrients back into the soil again so your living cash crop can then access it. The reason why this is so beneficial is because producers don't want nutrients to get away from their crops either, and we don't want them leeching or running off into drinking water systems."
When Lyon needed to find the best applicator for the cover crop, he turned to Hagie.
"During the course of our research, we came across the Hagie Montag Fortifier system, and really started going through the checklist of what we needed," said Lyon. "For us, the versatility that the Hagie machine delivered checked all the boxes."
Versatility all the way
Lyon and his team were able to secure funding for this cover crop project by tapping into resources that had traditionally been used for water treatment plants. With this funding, they were able to purchase a total of eight Hagie machines outfitted with Montag Fortifier systems. The main reason they stuck with Hagie was because of the versatility it delivered for growers to enter the field any day.
"The high clearance and carriage make a huge difference," said Lyon. "This machine can go over the top of mature corn. That's why we think the Hagie platform is second to none in the market in its ability to get into that late kind of standing crop. It can get a lot of seed on the ground but it can do it early, which also makes it the best tool for producers that have grazing livestock."
When cash crops are at the end of their growing season, the focus shifts to growing cover crops. When producers can plant cover crops in August or early September, it allows for a tremendous amount of biomass come fall. Having that fall biomass is critical for producers that also have grazing livestock. The more growth they have, the less they have to spend feeding their livestock.
"We have producers that are just over the moon at how effectively they've reduced their winter feed costs by planting cover crops with the Hagie," said Lyon.
Partnership-fueled innovation
To effectively plant the cover crop, the Hagie carriage utilized a Montag fortifier, a partnership that began in 2016. With both manufacturers members of the Iowa Water Business Council, the opportunity to partner to assist the Kansas cover crop project was something they were eager to be a part of.
"At Montag, we have a strong emphasis on partnerships, especially when they benefit farmers, co-ops and the community as a whole," said Anthony Montag, CEO of Montag Manufacturing, Inc. "Our specialization is precision granular planting, which made us a good fit for this project."
Together, the Hagie and Montag teams set out to create an applicator that was efficient and accurate.
"Close collaboration with Hagie allowed us to attach a fortifier to the machine, allowing us to dispense 80 pounds an acre at 10 mph," said Montag. "The project has been a lot of fun to work on, especially because of how in tune Hagie is with growers. And for us, building soil health naturally results in stronger communities, which is very important."
Win-win mentality
It is known that cover crops scavenge nitrogen from the soil, which prevents the nitrogen from leeching into watersheds, resulting in cleaner water and less cost treating the water to make it drinkable. While there is clear benefit for the communities using the water, how can there be return on investment for growers outside of stewardship? The Kansas cover crop project strived to create a system that would benefit every party.
"We had to prove to growers that this system would actually save them money in the long term. Outside of stewardship, it has to make dollars and cents for them," said Lyon. "It's just the economics of the situation that really drives what their management practices are. We had to make it a win-win opportunity."
By leveraging grant funding, they were able to lease the Hagie Montag machines to co-ops for growers to use for only $8 to $10 per acre, making the method affordable and accessible. This project has served as a successful case study that could potentially be replicated across the country, something both the manufacturers and environmental groups are excited about.
"We certainly wanted one of the byproducts of this project to be a template that other states could use to get this done," said Lyon. "We know that there are a number of states that have already kind of expressed the interest. We're excited by the opportunity to broadly apply this model and have a positive effect on water quality and grower profitability across the country."