Putting Innovation Upfront: Production Ag Improvements
As production ag continuously evolves, manufacturers race to create the most effective, accurate and durable solutions on the market. For most, increasing yields means increasing the flexibility of machines and creating solutions that allow to nurture, feed and protect crops throughout the entire growing season.
At Hagie Manufacturing, innovation has always led the way in every product development, blazing new paths to production agriculture breakthroughs. Through partnership with John Deere, recent innovations have been recognized with the reception of two AE50 awards earned for outstanding innovations that improve agriculture.
"Earning these awards is a direct reflection of our internal culture of innovation," Kent Klemme, president of Hagie Manufacturing, said. "Hagie began over seven decades ago when Ray Hagie invented the world's first self-propelled sprayer. Innovation has been in our DNA since the day we began, and this recognition is something our team takes great pride in."
Together, Hagie and John Deere's partnership continues to lead the industry with its 2020 line of sprayers and detasselers, including the new LS475 Liquid System option for the F4365 High-Capacity Nutrient Applicator.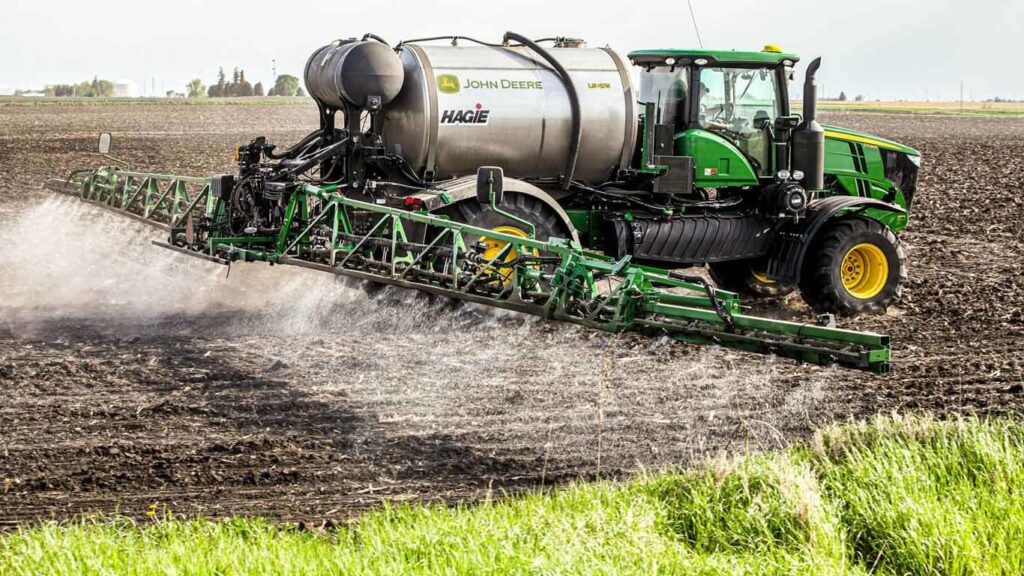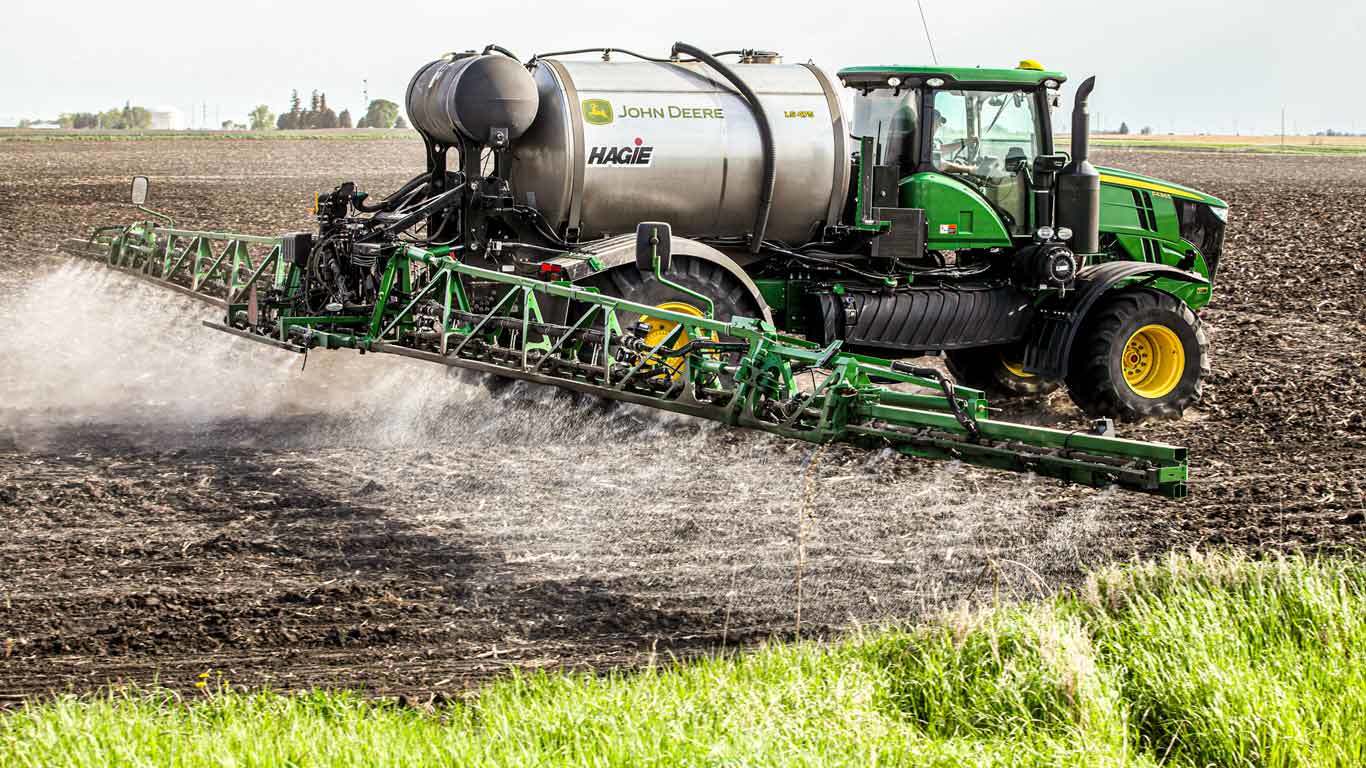 BUILD IT BETTER.
How can you create a liquid application system that covers more ground, needs less refilling and has all the comfort and speed you need to get the job done right? That's what the Hagie and John Deere team set out to conquer.
"The F4365 High-Capacity Nutrient Applicator has quickly become the industry standard in large, high-horsepower, low-impact, broad-acre applicators," said Joel Basinger, production step marketing manager for John Deere. "Since its introduction in 2016, we've added more application functionality to these machines, including an air boom and different spinner-spread dry box options. The new LS475 Liquid System, designed in collaboration with Hagie, is another example of the flexibility customers will have in using these machines to apply liquid fertilizers and other solutions to a variety of fields on their farms or for their customers."
This product has changed the game for ag service providers and large-acre producers applying high-volume liquid fertilizers, crop protection products and other solutions. It frees up time with its efficiency and can apply product quickly and accurately to a wide variety of fields.
Operators can now cover more acres, with fewer refilling stops, while providing the capacity, speed, comfort and reliability they've come to expect with the F4365 machines. That's because the LS475 Liquid System features a large 2,000-gallon (7,571L) tank that can be rapidly filled at 300 gallons (1,136L) per minute and a 90-ft. (27.4m), seven-section auto-fold boom mounted on the 365-hp F4365.
WIDER BOOM…WITH SOME ZOOM.
Time is money. And out in the field, conditions can change on a dime. Machines need to be able to, too. That's especially true when application windows are short, and soil compaction and disturbance is trying to be minimized.
To achieve this, the iconic John Deere 4-Series boom is utilized along with a high-capacity liquid system with tremendous application rate-volume to cover more acreage quickly. The rugged, height-adjustable 90-ft. booms can fold to 60 ft. (18.3m) for low-volume applications to smaller fields and have full-boom breakaway protection.
"With its wider boom and dual solution pumps, the LS475 can apply liquids at rates from five gallons (19L) to 420 gallons (1,590L) per minute, depending on application speed, which makes it one of the most versatile machines in being able to cover everything from pasture and hay ground to corn, soybeans, wheat fields and more," said Basinger. "This machine with the liquid system can effectively apply product at speeds up to 30 mph (48 km/h), depending on the application rate."
Other features of the liquid system include a 200-gallon (757L) rinse tank with an automatic rinse cycle and transfer to the solution tank; enhanced agitation capabilities; and a self-priming load pump to save time charging the system. In addition, the PowrSpray™ Solution System makes it easier for the operator to perform several functions from the load station, including nozzle check, air purge and system cleanout, and field cleaning with an on-board pressure washer.
BIG TALK. BIG EFFICIENCY.
Big innovations call for attention to all the smallest details. That's why the engineering team has fine-tuned virtually every aspect of its machinery, including the latest LS475. While the versatility to apply herbicide and fertilizer with a single machine is efficient, all the details take it to the next level. For example, with the widest factory-installed boom, operators can cover 12 percent more acres per pass.
The difference between a great product and an industry disrupter is in the details. And Hagie's in the business to lead and disrupt.
"For our team, innovation is the passion, and we back it up with a remarkable product," Klemme said. "Pushing the limits and increasing technology is what motivates our team. The awards and recognition that come with it is just a bonus."
For more information on the new high-volume liquid system for the High-Capacity Nutrient Applicator, contact your local John Deere dealer.